Regrettably, I have not been writing as much and I blame having the internet back! When we had no internet connection in our apartment I was writing everyday and reading more often. As frustrating as it was to not have wifi, it forced me to spend more time reflecting, reading and writing - a refreshing step back in time before we were connected digitally..
Today I took the train North, past Chatswood up to Hornsby and met a new friend, Margaret and her good friend Carolyn, for lunch. I think the restaurant was called the Blue water Grill? https://bluwatergrill.com.au/ The food was excellent with a lovely atmosphere. The service was a little slow but it was quite busy. A really nice design, colors and aesthetic with an entire painted wall of water. Really enjoyed the afternoon with them. Afterward Marg and I went into the Westfield Mall to shop a bit. I bought a yoga mat in Target for $12! What a relief I did not buy the sticky mat I was originally interested in for $60 in the CBD which was much thinner.
Below are a series of images of typical sights and scenes around North Sydney over the past couple of weeks. We are so lucky to have all this right outside our front door!
View of the Harbor inside a ferry, note the iconic opera house in the distance.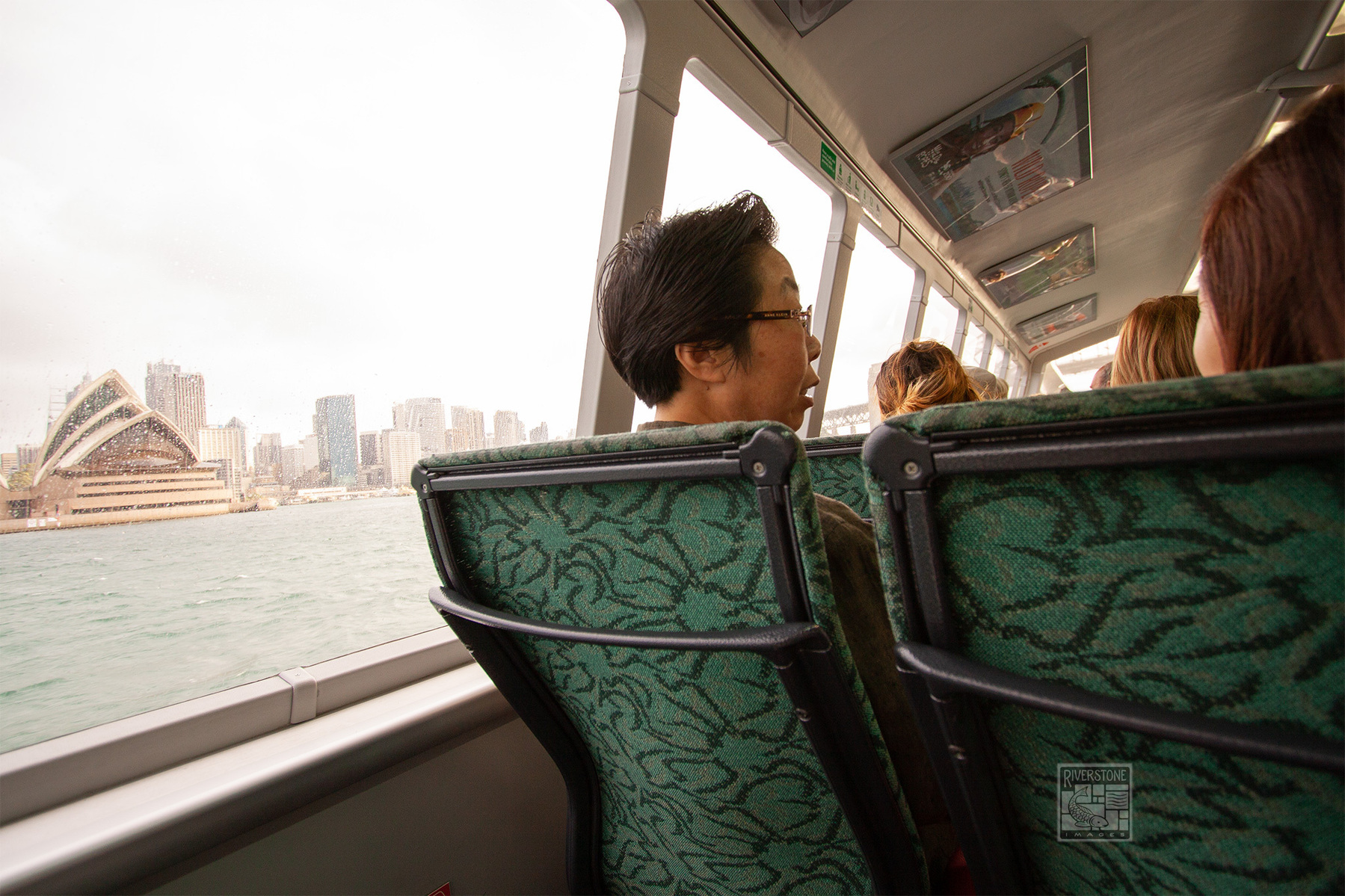 Inside the ferry, pretty luxurious and cheap ride to different points of the city.
Ferry approaches to pick us up at the dock of McMahon's Point
A quaint little boathouse on Kurraba Point.
Now this is waterfront living! (Kurraba Point)
Ferry stop
Anderson Park on Neutral Bay
Exposed (buttress) roots of a Moreton Fig tree, a very common sight in Australia
Two grey cats in an art deco flat
We found so many (if not most) older houses and apartment buildings all had names, like this one, the Kenton. Ours is the Hepburn (see an earlier blog post)
I just loved this home named Cliffbank on Highcliff, aptly-named.
Wedding party approaches Clark Park in Lavender Bay where their guests await their grand entrance. Is this vintage limo not the coolest?! Not sure if maybe it was a London taxi at one time perhaps? This is the street we live on, Lavender St., directly across from Clark Park where we see a wedding almost every weekend.
A bagpiper is commonly seen (heard) at weddings here.
Two beautiful flower girls.
Lots of heavenly lavender in Lavender Bay
"The Brit Stop" transport for the wedding party? Not sure… and also not quite sure why this gentleman was shirtless but, whatever…. lol he is possibly the chauffer of this very British double-decker bus!
A few more scenes around our neighborhood & city….
Art Deco building design is ubiquitous in Sydney. Here a frog pattern decorates the housing of the North Sydney Olympic pool building on the harbor at Milson's Point.
There is definitely a learning curve with the lingo here. Peppers here are capsicums, never referred to as the former.
A sculpture in Wendy's Secret garden.
So difficult to wrap my head around eating kangaroo but no different than venison back home I guess. :-(
The weather here has completely surprised us, with the exception of snow and ice (none) the weather is very unpredictable and sometimes downright dangerous! I started counting then snapping pix of all the broken umbrellas around the city! Abandoned umbrellas everywhere.
Actual hail that blew in through our bedroom window - check out the video at the bottom of the page! Jim captured a sudden hailstorm, so glad we were home that day.
Adorable Aussie schoolboys
A random animal skull found in Bradford Park…. :-( possibly a ringtail or brushtail possum, both very common around Australia.
These are typical stairs that we climb daily to get around the city! If you don't have a car, you get into shape very quickly! All the hills here also completely surprised us. Alot like San Francisco.
Quite a large variety of tropical birds live here, one of the most common are the sulphur-crested cockatoos.
Hail pounding our bedroom window